GoBoPro Projector : by Optikinetics : PLUS many many Gobo extras
This multi function gobo projector was used in a limited number of trade shows years ago and has since been in safe storage.
(See everything in all 5 attached pictures below)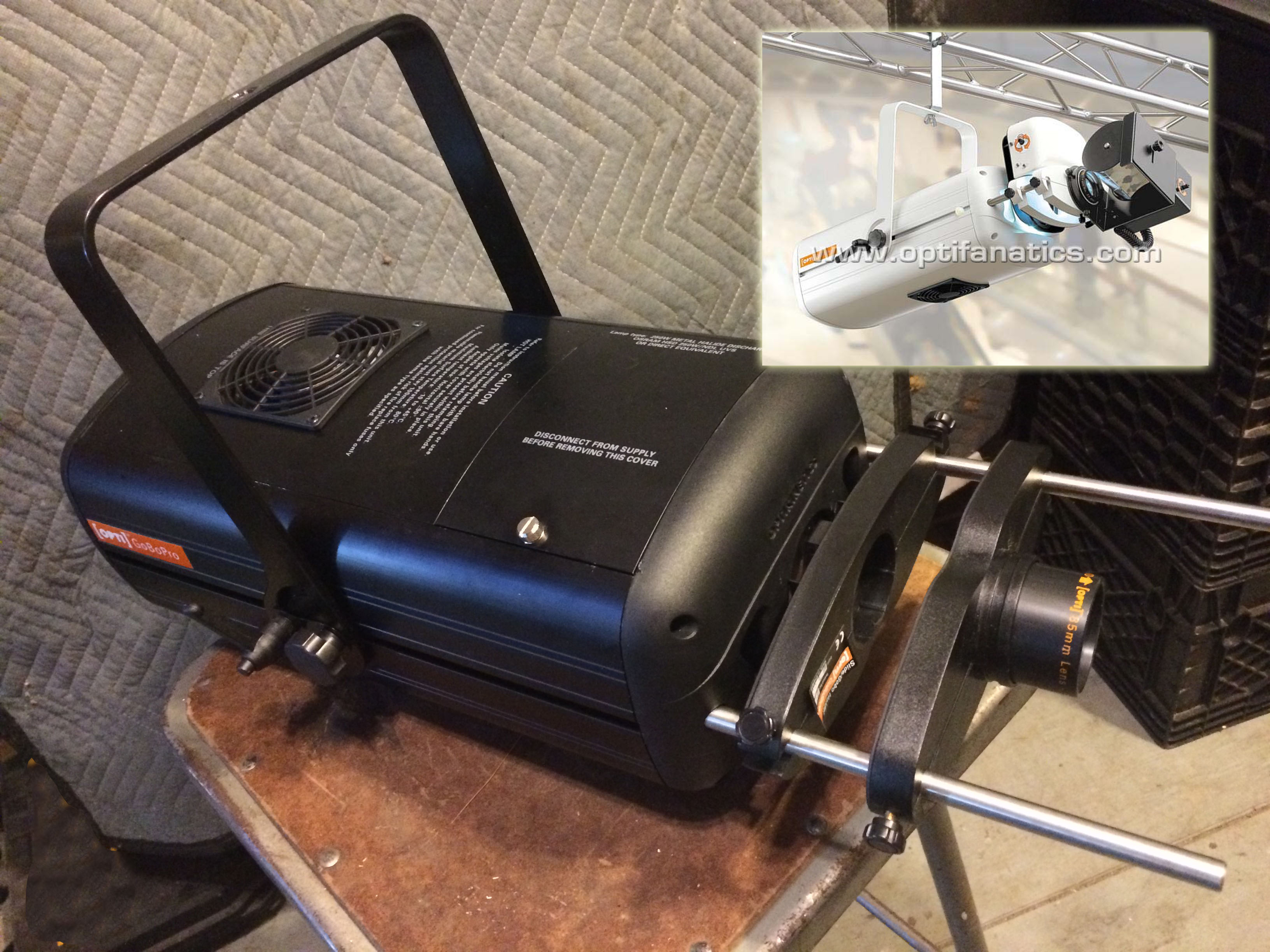 The GoBoPro has been developed for use in higher ambient light conditions. Informative and dramatic effects are easily created and are simple and cost effective to change when required. This very stylish unit is perfect for exhibition, retail and night industry applications.
As well as the improvements made to the optical performance of the GoBoPro, this projector is also now available with a factory fitted DMX and Shutter option. This provides remote control of the on-board shutter, as well as Autochanger and X-Y Mirror accessory functions, from any industry standard DMX lighting controller or stored memory facility. The DMX signal is sent along the same rails that provide the low voltage to standard powered accessories. The DMX and Shutter version of the GoBoPro allows programmable accessories to automatically operate the shutter when used without external DMX control.
A new extremely high color temperature 8,500K Sylvania BA 250 watt metal halide lamp, with an average life of 2,000 hours, and the addition of coated condensor optics have improved the light output performance of the OPTI GoBoPro to 2,800 lumens. The GoBoPro has an adjustable 3-speed fan to cool heat sensitive effects which in combination with an Autochanger enables the use of duplicate 35mm photographic slides for short term use.
A wide selection of GoBo range rotators, mirrors and slide/gobo holders are available making the GoBoPro compatible with the vast range of OPTI effects cassettes, wheels, clocks etc and your custom produced slides/effects.
GoBoPro technical information:
Overall size 23″ [577mm] long x 11″ [289mm] wide x 7″ [166mm] deep (12″ [293mm] deep with hanging bracket)
Weight 24 lbs [11kg]
Standard lens 3 Element 85mm f2.8 48.5mm smooth barrel
Mains voltage 110 – 120V~ or 220 – 240V~ 50/60Hz
Power consumption 400 Watts maximum
12V~ output current 3A maximum
Lamp type Sylvania BA 250/2 single ended
Lamp life Average 2000 hours (change before 2200 hours)
Total light output 2800 lumens with new lamp
Color temperature 8500K
Cooling Tubeaxial exhaust and 3 speed centrifugal fans
DMX & Shutter (Factory Fitted Option) 1 Channel of DMX
DMX plug 5 pin XLR
(See everything in all 5 attached pictures below)
– (1) GoBoPro projector
– (1) foam lined – fitted – road case (hardly scratched)
– (1) Gobo spinner (Adjustable speed)
– (1) Circular Motion Mirror (Adjustable speed)
– (4) 35mm gobo slide holders
– (1) 35mm gobo slide sleeve
– (1) 35mm lens – already installed
– (1) 50mm lens – in box
– (2) excellent / new HDS 250 bulbs
– (2) power cables
– (2) owners manuals